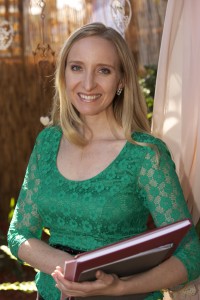 In 1999, I graduated with a Bachelor of Arts (Drama) from QUT, and in 2006 completed a one year course in playwriting at NIDA.  This has given me a rich background in poetry, prose and music to include in the ceremony.  I love theatre, ceremonies and rituals, because of the joy and wonder in participating in an event that is a moment in time but holds memories forever.  Where people gather to celebrate life and love, and to be part of something bigger than the some of our parts, it is a memory making moment.
Having worked for over a decade in a corporate environment, I have been called upon to do sales, presenting and event management.  I believe the combination of left/right side brain thinking makes celebrant work perfect for me.
I also have a love of travel and traditions in other cultures.  In 2011, I travelled to India to study yoga at K Pattabhi Jois Ashtanga Yoga Institute, and was invited to a wedding ceremony on day three of part of a five day ceremony.  I particularly loved the ceremony where the bride and groom place a garland of marigolds around each other.  I have a number of ceremonies we could discuss further to make your wedding day unique, and can provide the material if required.
For me ceremonies and rituals are an essential part of living well.  So whether you are looking for someone to marry you and your beloved, a house blessing or baby naming, I know I can create something beautiful and meaningful to you.
I would love to meet you in person (naturally obligation free) and see if I am the celebrant for you.